The number and quality of leads you're getting right now, isn't quite getting the job done, is it?
Inbound is hard.
But it can move the needle like nothing else. You already know that though. Otherwise, you wouldn't be here now, would you?
I've used inbound marketing extensively to grow my own business as well as my clients' to 10x their original size.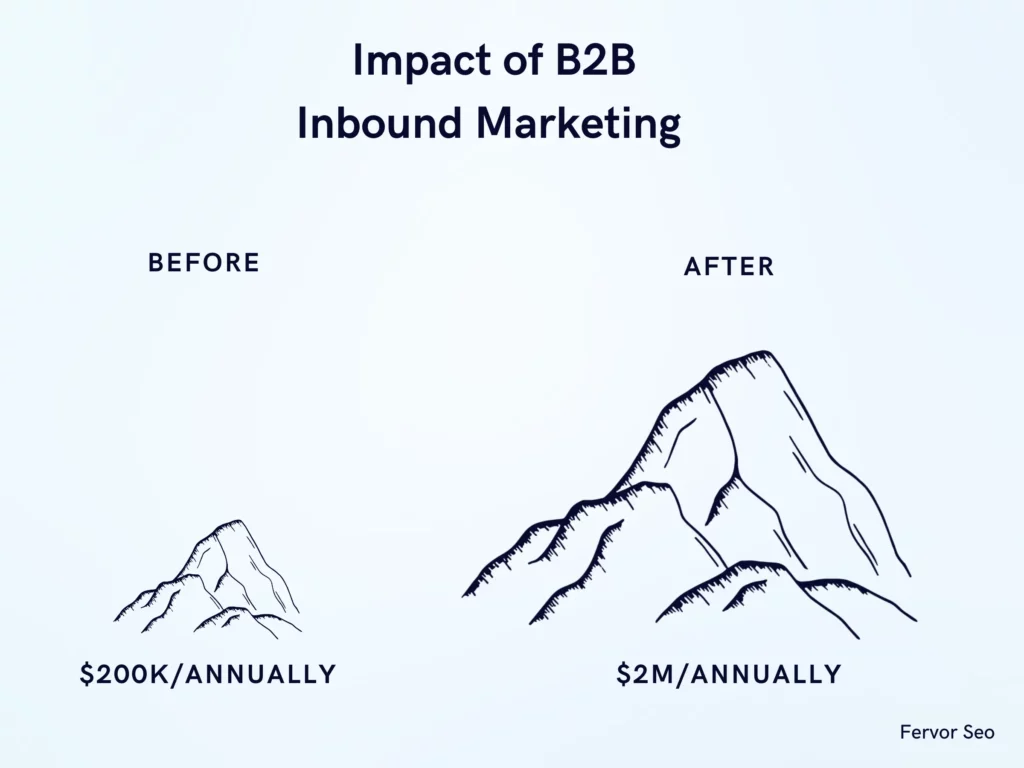 Which is why, I'm going to give you the truth about how inbound marketing works.
This not some DIY inbound marketing hack, or a list of ineffective tips. I'm going to show you the real deal, and not hide any uncomfortable truths about B2B inbound marketing from you.
By the end of this guide, you'll know exactly how to grow your business, with no confusion, and a high success rate.
Let's start.
So what exactly is inbound marketing again?
Inbound marketing is all about leveraging valuable and relevant content your prospects are interested in. It's a client-centric approach that puts the focus on building trust and nurturing relationships.
So, here's the deal: instead of bombarding people with interruptive ads, inbound marketing is about creating top-notch content that directly speaks to the needs and interests of your target prospect.

You can use blog posts, videos, social media, etc. The aim is to position your brand as a trusted resource with expertise and authority in your industry.
Now, to make inbound marketing work for you, it's important to really understand your audience and what they're into. You got to do your research, and figure out what makes them tick.
To be honest, Inbound marketing is a breath of fresh air compared to the traditional pushy methods.
It's like comparing apples to oranges, really.
Outbound marketing is what most people are familiar with. It's the traditional, in-your-face, interruptive marketing that bombards you from every angle. Think TV and radio commercials, emails, print advertisements, cold calling, and those pesky pop-up ads that invade your browsing experience.
It's like being caught in a never-ending hailstorm of sales pitches.

Now, let me be clear. Outbound marketing isn't inherently bad. It has its time and place. But here's the thing: it's all about pushing your message out there, whether your audience wants it or not.
It's about interrupting their day and hoping that your message sticks.
It's a spray-and-pray approach that's becoming less effective in today's world of ad blockers, straight-to-spam email plugins, call screeners, etc.
Inbound marketing, by contrast, is all about attracting and engaging your audience by providing valuable and relevant content. It's like opening the door and inviting them in for a cup of coffee
The beauty of inbound marketing lies in its ability to pull people in.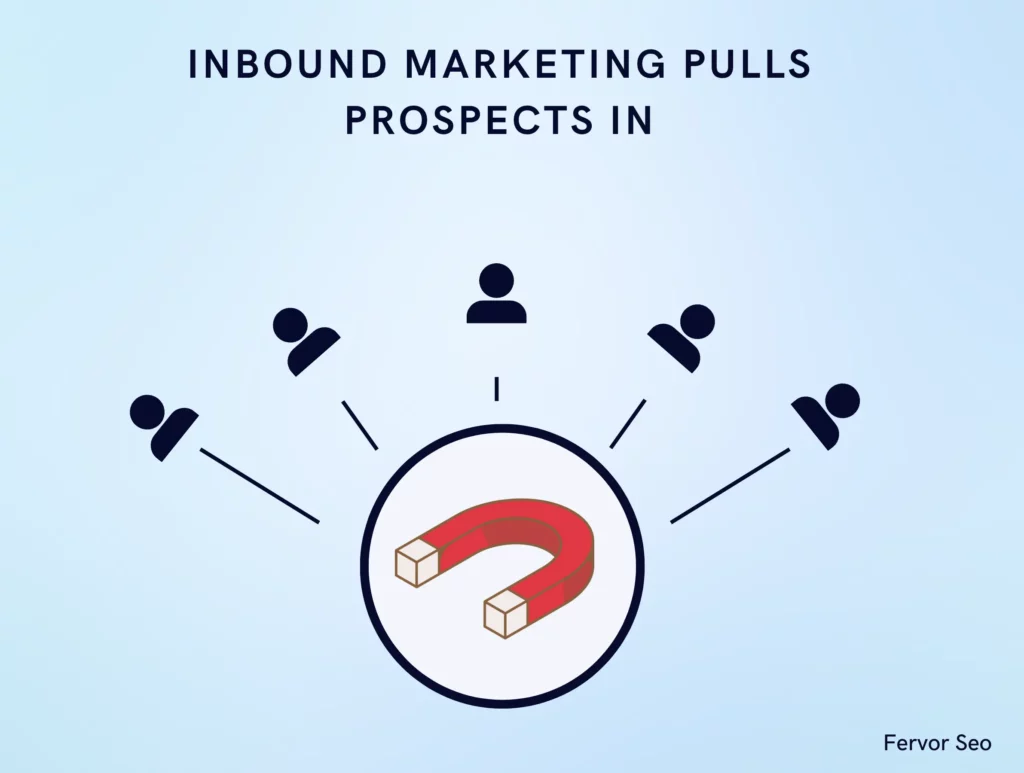 You're not interrupting or intruding; you're attracting individuals who are actively seeking information and solutions. They come to you willingly, hungry for knowledge and guidance. And that's when the real magic happens.
Here are some of the differences between inbound and outbound marketing.
Inbound leaves outbound biting the dust in the long run
Outbound marketing often prioritizes short-term gains and immediate conversions, resembling a sprint. It is focused on chasing quick wins, which can include cold outreach efforts.
In contrast, inbound marketing takes a long-term perspective, aiming to build trust, nurture relationships, and create loyal customers. It involves patience and consistency, like a marathon where you achieve success through steady progress and customer loyalty.
Now it sounds like outbound is better because it's bringing you short term wins, but that's not exactly true. 
The ROI on outbound marketing is far less than the ROI on inbound. Within the first year your ROI could be 35x on inbound, by the second year it could be up to 100x. That means you'd be making $100 for every $1 dollar spent on marketing.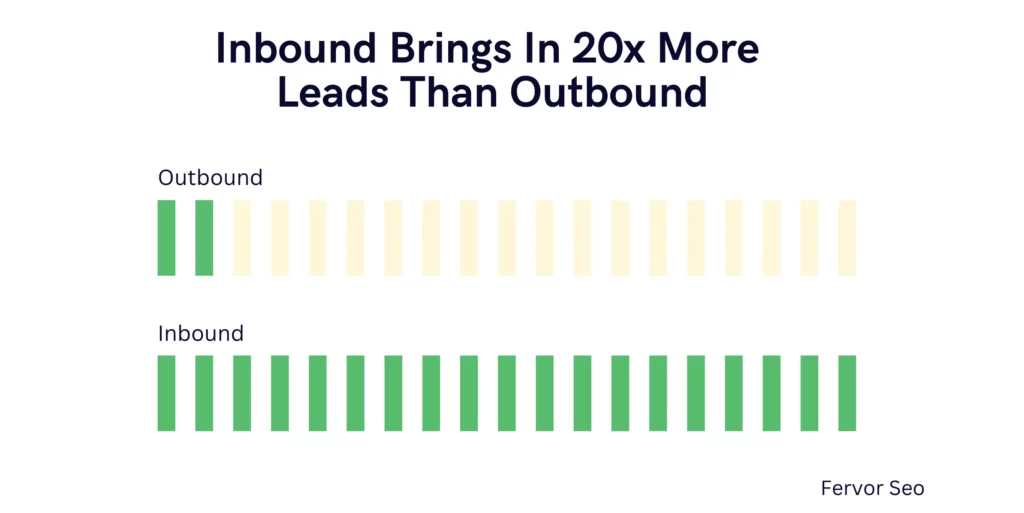 Let me illustrate this through an example.
Let's say you spend $10,000 on outbound marketing. You get a few hundred leads, but most of them are low-quality and unlikely to convert. You end up with a few sales, but your ROI is still low.
Now, let's say you spend $10,000 on inbound marketing. You get fewer leads, but they will be higher quality and more likely to convert.
Here's how the math works:
Outbound marketing:
• Leads: 200
• Conversion rate: 1%
• Sales: 5 x $10k = $50k
• ROI: 5x
Inbound marketing:
• Leads: 100
• Conversion rate: 20%
• Sales: 20 x $10k = $200k
• ROI: 20x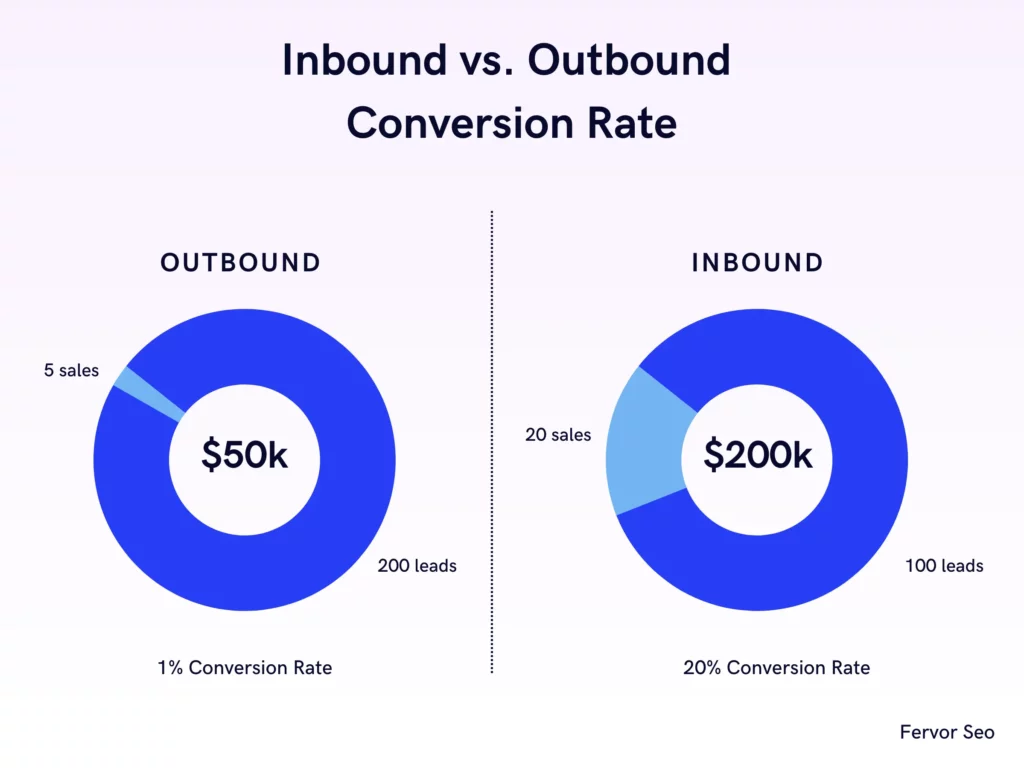 And, here's the best part, this ROI will only increase with time since you only need to create content once with inbound marketing.
So why exactly is this inbound thing so much better?
In today's consumer landscape, people really don't like feeling like they're constantly being sold to. The traditional outbound marketing tactics? Yeah, they tend to get met with skepticism and resistance.
Why? 
Well, folks are all about wanting to be in control and make their own decisions. And that's where inbound marketing comes in, shining bright like a diamond.
It makes your prospects feel like they've used their own mind to reach a conclusion.

Let me break it down for you.
To your prospects, inbound marketing is like having a trusted advisor by their side, guiding them along the decision-making journey rather than shoving a service down their throat.
When prospects engage with inbound marketing content, they feel like active participants. They get to explore the resources, dive deep into the details, and evaluate the information at their own pace.
It's all about autonomy.
And that autonomy builds trust and positive vibes with the brand. They feel like they're in control, which makes them opens them up to what your firm has to offer.
Now, let's contrast that with outbound marketing.
Outbound feels like my mom forcing me to eat broccoli
All the stalwart outbound tactics like cold calls, unsolicited emails, disruptive ads, etc., feel like an invasion of personal space.
And nobody wants that.
When people feel like they're being sold to, their guard goes up, and they shut down.
Outbound marketing can make prospects feel like their decision-making process is being manipulated.
Not cool.
With inbound marketing, it's all about building relationships. It's not about quick sales; it's about trust. By consistently delivering valuable content and maintaining ongoing communication, you become reliable sources of information and support in your domain.
It's about creating that authentic connection, being transparent, and showing genuine interest in the prospects' success.
When folks feel that a company genuinely cares about them, trust starts to bloom.

So, in a nutshell, inbound marketing gets it.
It understands that people want to feel like they're in control of their decisions.
By providing valuable content, personalized interactions, and fostering autonomy, it lets prospects trust their own judgment.
And that trust leads to higher conversions.
Inbound also allows you to get more output with a smaller sales team.
Inbound marketing can be a game-changer for your sales team.
It brings in warm leads, i.e., prospects who are already interested and ready to engage.
Here's the thing, you're attracting people actively seeking solutions. They come to you willingly with intent. If your information is good or at least sounds good, your prospects end up viewing your brand as a trusted source of valuable information.
These warm leads require less effort from your sales team.
They're already interested, so it's easier for your salespeople to start conversations, and move them through the sales funnel.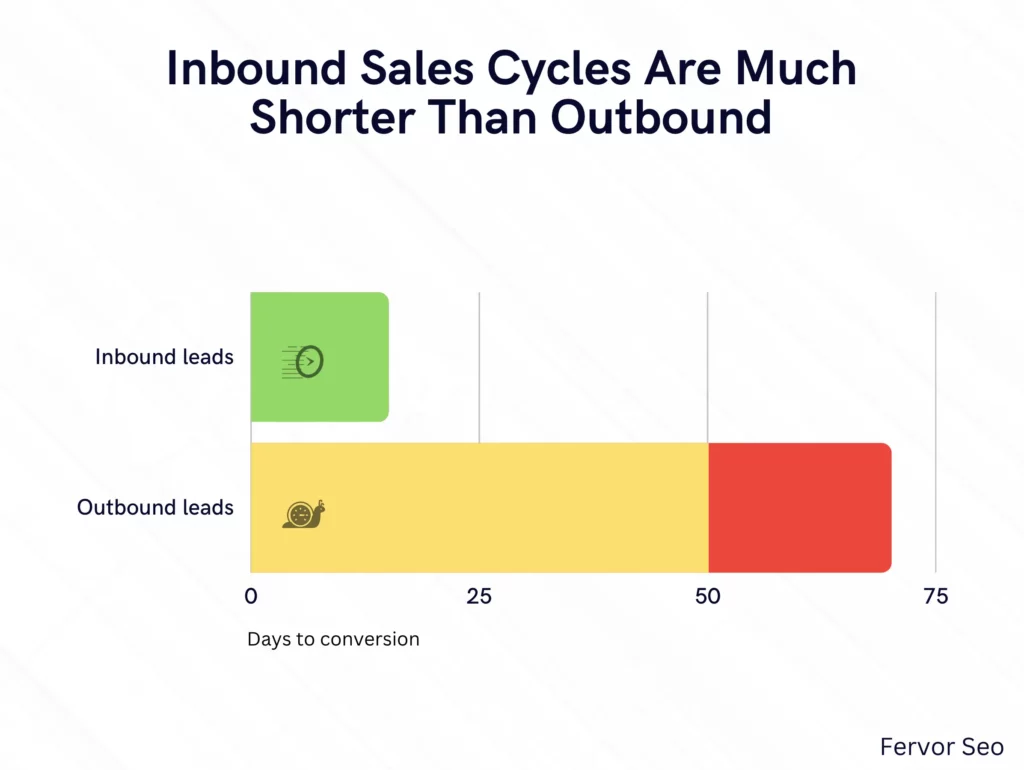 The best part?
Inbound marketing attracts high-converting leads. By targeting your content to address the specific needs of your ideal client, you draw in prospects who align with your service offering.
These leads have a genuine need and a higher likelihood of converting into paying customers. This helps your sales team save time, and avoiding wasting energy on less qualified prospects.
Additionally, inbound marketing shortens your sales cycle compared to outbound marketing.
By leveraging warm leads and a shorter sales cycle, your sales team becomes more efficient and effective. They can concentrate on qualified prospects, increasing the conversion rate and revenue.
Instead of sifting through a large volume of leads, your team gets a bunch of highly convertible leads and they have to spend less time in meetings, sending emails, researching the prospects' businesses, etc., to convert them.

So where and how do I do inbound marketing?
This is the best inbound marketing strategy for B2B firms.
Actually, let me rephrase that. This is the single best marketing strategy for B2B firms. Period.
Blog posts are the most competitive type of inbound marketing strategy. However, they are also the most rewarding.
A well developed blog will generate millions of dollars in revenue for you.
I'll explain how exactly later in the post.
For now, there are only two things you need to know about blog posts:
1. Blog posts are combination of content marketing and SEO.
The objective of blog posts is to provide solutions to your prospects through Google. Then, once your prospect reads through your solution, they trust your expertise and authority and want to connect with you to help them further.
This is inbound marketing in its purest form.
There are more people searching for answers on Google a day than there are on Instagram, Tiktok, email, etc. a month. Nobody is looking through social media or email to find answers to their problems. When somebody wants to actively solve a problem they go to Google.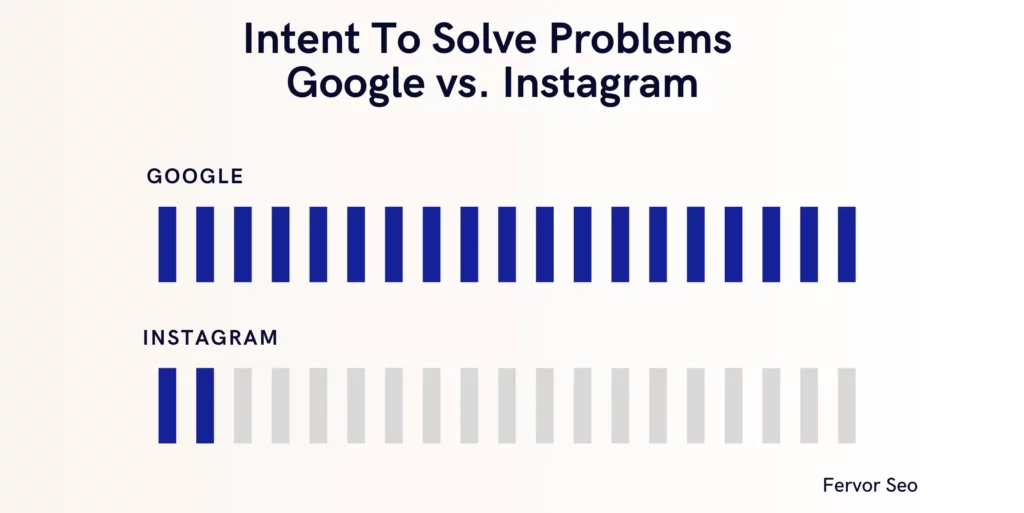 But that is also why blog posts are so competitive.
Since all your competitors know that your prospects are looking for solutions to the problems on Google, they're all trying to market their blog posts.
This is why it's very difficult to market your blog posts. However, the rewards greatly outweigh the effort needed to rank your blog posts on Google.
2. Blog posts inspire conversions
If your content is really resonating with your audience, they won't go anywhere else after reading your blog post.
What they are going to do is, they're going to press the CTA button at the bottom of your blog post that says "Connect with Us", and book a meeting with you.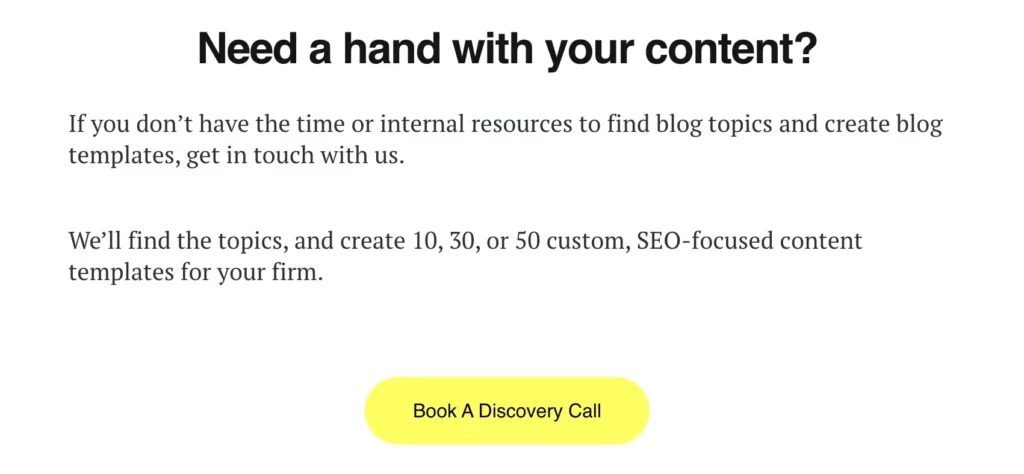 This is why it takes a lot less to convert to a blog post and it does to any other form of inbound marketing.
When you're reading a blog post, and I mean actually reading it, you're doing that because you have a serious problem that you want to solve.
Otherwise, you would not take precious minutes out of your day to sit there and read. Reading requires exercising the mind and if someone is reading fully through your blog post they're only doing that because they're really struggling.

As a result, what ends up happening is that your prospect unknowingly invests in your content.
They invest a lot of time reading and understanding your solution, and then they want to enact that solution, so that they can be rid of their problem.
Now usually what happens is, most people are lazy. People don't want to solve their own problems they don't want a DIY solution.
So, what will happen is, they'll read your content and think to themselves wow this makes sense. But then right after they're also going to think, "Okay this is a lot of work. I don't know if the time or the skill to take care of this."
At which point, their little cursor is going to move towards your CTA, click the button, and book a meeting with you.
YouTube can be a great inbound marketing solution if you're good at connecting with people and have a likable personality.
One of the biggest advantages of YouTube is that it's easy for your prospect to consume your content. They can just sit back and watch your video, like they're watching a movie.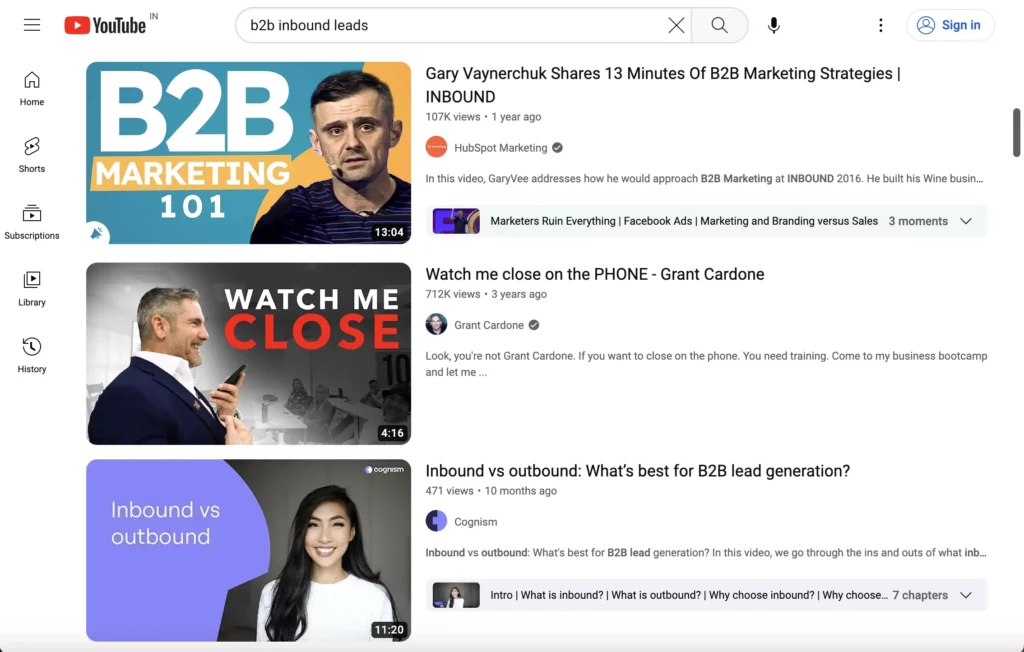 If you create high-quality videos with a unique perspective, you can do well on YouTube.
You can make short 5-minute videos on YouTube, and then direct people to your blog posts for more detailed information.
However, there are some downsides to using YouTube:
1. It can be hard to grow your channel.
A lot of businesses work hard to create great content, but they struggle to even get noticed on YouTube.
YouTube has its own way of deciding which videos to rank for a search. Unlike written content, YouTube can't understand what you say in a video, so even if your video is relevant, it might not rank high.
YouTube looks at things like how long people watch your videos and how they interact with them to decide rankings.
So, if you have less than a thousand subscribers, it can up to 2 years to grow your channel.

Even if you reach 10,000 subscribers or more, you'll still get a lesser ROI compared to emails and blog posts.
2. YouTube can ban you.
People get banned and censored on YouTube for reasons that don't make sense.
You don't have to do anything wrong to get banned. Sometimes, if your competitors report you out of spite, that's enough to get you banned.
It's not a good feeling to depend on a platform where all your hard work can be undone in an instant.
3. Your potential customers might not search for solutions on YouTube.
Usually, people your prospect's age don't directly search for solutions to their problems on YouTube.
They would only find your YouTube channel if they searched for a problem on Google and your video showed up in the results. YouTube can bring some positive results, but it's not the most effective inbound strategy.
So, if you're looking to ruin your business and you just have random money to burn, this is a great strategy.
Social media especially organic B2B inbound social media has all the downfalls of every other inbound marketing strategy out there and none of the benefits.
There is zero intent for your prospects to explore your company through social media.
I know what you're thinking. "But everyone's on social media!"
That's true. But that doesn't mean they're on social media to find companies to help their businesses make more money.
In fact, most people are on social media to do the exact opposite: to escape from work. They want to see pictures of their friends' kids, their dogs, and their vacations. They don't want to be bombarded with sales pitches veiled as "providing value".

So, if you're a B2B company, why would you waste your time and money trying to market on social media?
To really drive the point home, here's a whole list of reasons why social media is the worst platform to generate B2B leads:
1. Limited Relevance
Social media platforms like Instagram are more focused on personal connections, lifestyle content, and entertainment. Even professionals like COOs are unlikely to be actively exploring business solutions on Instagram. If your prospect has no intention of exploring your business on Instagram, it means he's unlikely to engage or even consider your offerings through that platform.
2. Limited Professional Context
B2B marketing often requires providing in-depth information, technical details, case studies, and testimonials. However, social media platforms have limitations in terms of character count and image-centric formats. It's hard to convey the necessary professional context and credibility on platforms designed for casual content.
3. Limited Professional Information
Social media platforms have character limits and image-centric formats, making it hard to provide detailed business information, case studies, and testimonials.
4. Few Conversions
Social media platforms prioritize user engagement over direct conversions, resulting in very low conversion rates compared to blog posts, youtube, email, etc.
5. Lack of Trust
B2B buyers prefer platforms with detailed company information, testimonials, reviews, and industry-specific insights, which social media platforms can't provide due to their informal nature and user-generated content.
Podcasts are the new up-and-coming darling of the B2B space.
But I'm sorry to burst your bubble, they're useless.
They take just as long to market as YouTube and have none of the ROI. The first thing you got to know is that 99% of podcast listeners are not C- suite executives trying to expand their knowledge base.
Most people listening to podcast are going to be young guys or girls who are trying to self-improve, develop their skillset, etc.
And while that's admirable, they are not your prospects
Here are some facts about podcasts:
1. They're hard to find
Podcasts are like special shows that you have to search for and subscribe to. It's not as easy as finding things on search engines or social media where they show you stuff you might like. If you can't even get your podcast in front of the people that matter, how are you ever going to convert them to leads?
2. The time investment is too much
Podcasts are usually quite long, and busy business people don't have enough time to listen to them. They prefer shorter and quick information that solves their problems. So, if your podcast is too long, you're not going to attract a lot potential leads.
3. No Visuals
Podcasts only use sound, so you can't show pictures or things that are nice to look at.
In B2B marketing, it's important to show things like charts, graphs, or how products work visually. Without pictures, it can be harder to explain and get the attention of B2B leads.
Take a look: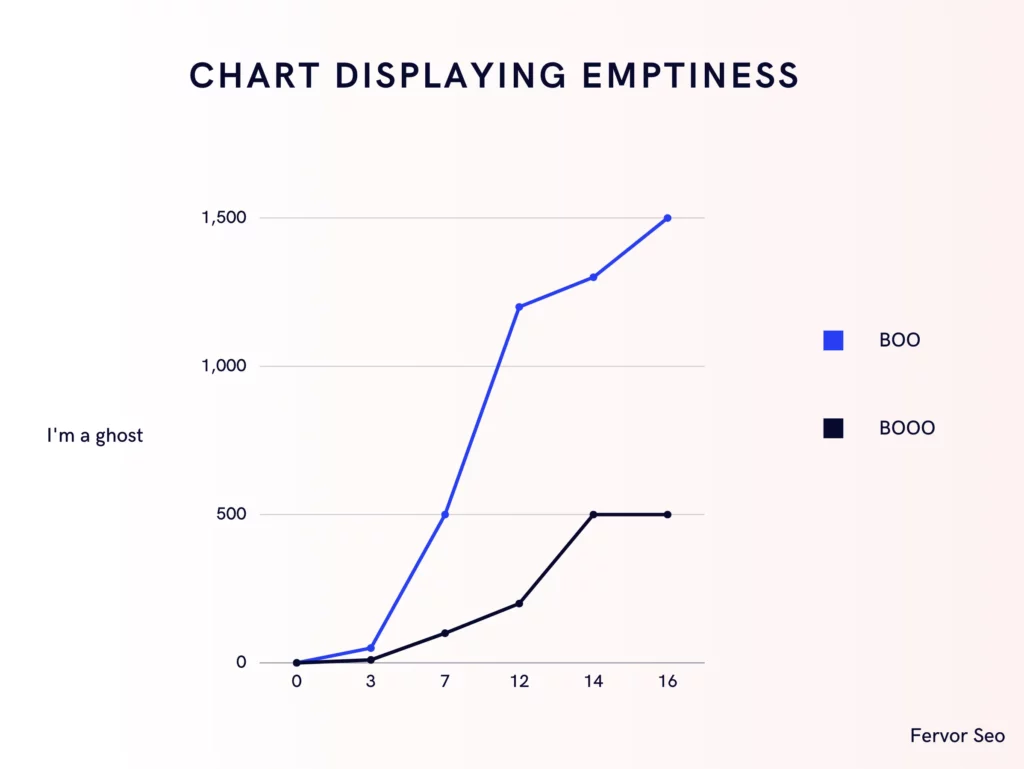 This chart didn't have any functionality, but it got your attention, didn't it?
4. Hard to Know if It's Working
It's not easy to track how well your podcast is doing. Unlike websites or emails, where you can see how many people visit or respond, podcasts don't give you that much information. This makes it tricky to know if your podcast is bringing in new leads or not.
5. Lots of Competition
There are already many podcasts out there on different topics. It's hard to stand out and get noticed by your target audience. Unless your podcast is unique, really well-made, or already has a big audience, it's difficult to generate B2B leads through your podcast alone.
6. Reluctance to intake new information from less experienced operators
C-suite executives, like CEOs and other top-level executives, might not be interested in listening to business podcasts.
They often feel like they already know everything they need to know, so they don't see the point in listening to podcasts from people who are less experienced than them. This means reaching these important decision-makers through podcasts can be challenging.
You may know more than them. Heck you probably do, but they may not see it that way.
I'm just giving you the facts for what they are.
5. Whitepaper + newsletter combo
In the B2B marketing world, whitepapers and e-books are like thought leadership superstars. They go deep, providing expert analysis, research findings, and perspectives that position your business as an industry authority.

Now, when we talk about inbound marketing, we usually mean attracting leads organically.
You know, creating content that naturally grabs prospects' attention like blog posts. But whitepapers and e-books often need a little push to reach the right audience.
They need emails, paid ads, LinkedIn promotion, etc. Without proper promotion, your prospects can't find these resources easily.
Which technically means they're outbound tactics. Now I could just this close the point right here, but whitepapers and e-books aren't all bad.
I'll explain how they assist in lead gen, even if they're not technically inbound. Just to address the topic and put your mind at ease.
Whitepapers are fantastic lead magnets when used strategically. Their lure of valuable insights is like a magnet, attracting prospects to share their contact information in exchange for access to the content.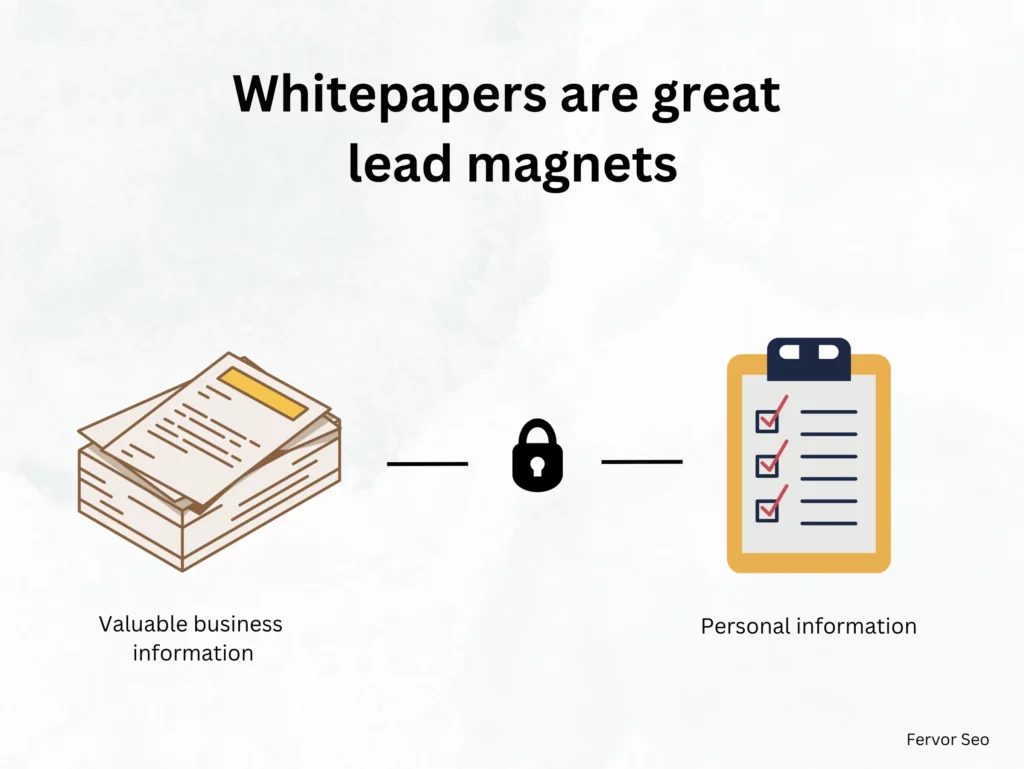 If you've got a newsletter, you can leverage whitepapers to collect emails.
This is where it switches from outbound to inbound.
Leveraging emails to convert leads
By consistently engaging your prospects through targeted email communication, you can ensure that your company remains at the forefront of their minds.
With a sizable group of prospects on your email list, you'll experience a consistent influx of clients each month.
To achieve this, create concise emails of around 100 to 150 words and send them once every 4-5 days. This frequency allows you to stay memorable to your prospects, so when they need your help in your specific service area, they will instinctively think of reaching out to your company.
The key to providing value over email is to keep your messages short and leverage them as a means to direct people to your blog posts or other relevant content.
Short emails are more likely to be read, as longer ones can be perceived as intimidating or time-consuming to read.
If you don't have blog posts, you can use your email as the primary source of content distribution. Here's a step-by-step approach:
Step 1. Conduct thorough research on your prospects and compile a list of around 100 niche topics that are relevant to their business challenges or needs.
Step 2. Twice a week, address one of these problems or topics in your email content.
Step 3. Structure your email to include the problem, a proposed solution, the potential outcome, and a subtle but highly relevant call to action at the end.
Here's an example: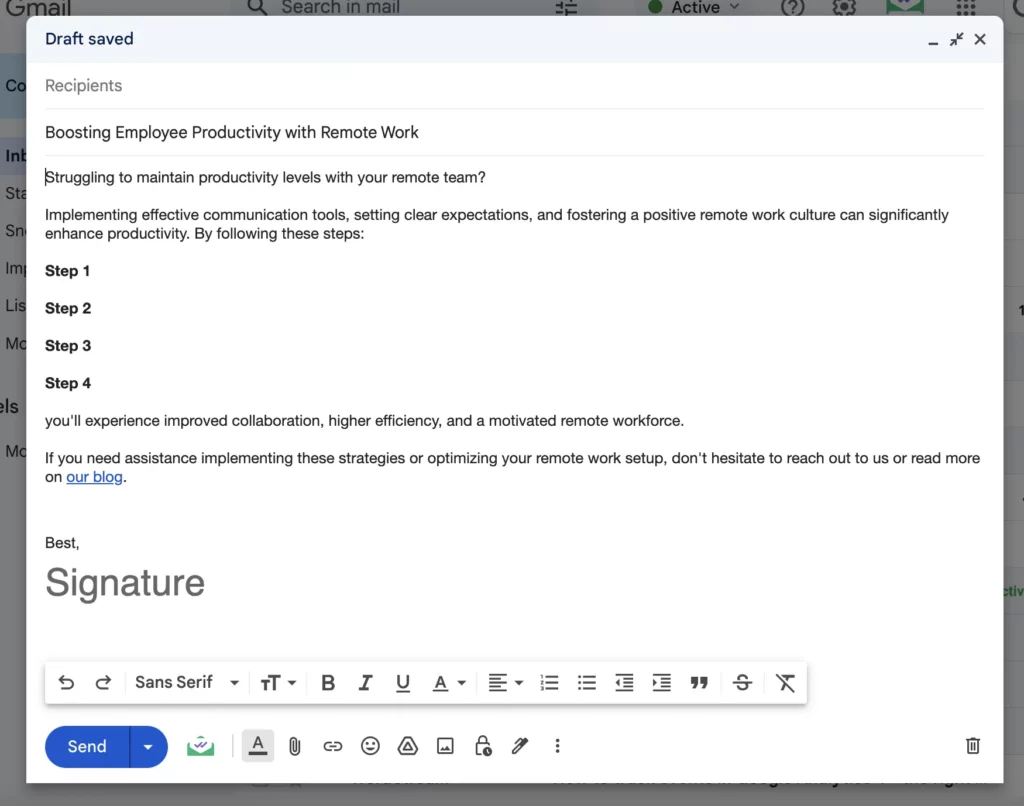 Step 4. Use email marketing tools like MailChimp to automate the sending process and efficiently manage your email campaigns.
As your email list grows to 1000+ subscribers, you can expect a steady flow of warm leads, with 2-3 potential clients showing interest each month.

How are exactly are blog posts a super-magnet for B2B leads?
The best way to explain this is through an example.
Let's say you're a business consulting firm that specializes in helping SaaS startups grow.
So you write 20 blog posts with solutions to problems faced by SaaS startups.
If you write a well-written and informative blog post, it could rank well on Google for relevant keywords. This means that when people search for information about how to grow their small business, your blog post could be one of the first results they see. This could lead to a significant increase in traffic to your website, and some of those visitors could become leads.
So let's assume, 6 of your posts are "well written."
And let's gauge, as a result, your blog post gets 4,000 views per month. If you convert just 1% of those visitors into leads, that's 40 new leads per month.
And if you convert even 10% of those leads into clients (which is way below the average, which is more like 25-35%), you pull 4 clients a month.
If each client is worth an average of $10k, that's an additional $480k in revenue per year.
And that's from what a $20 – $30k investment in your blog content?
That's a 23x ROI.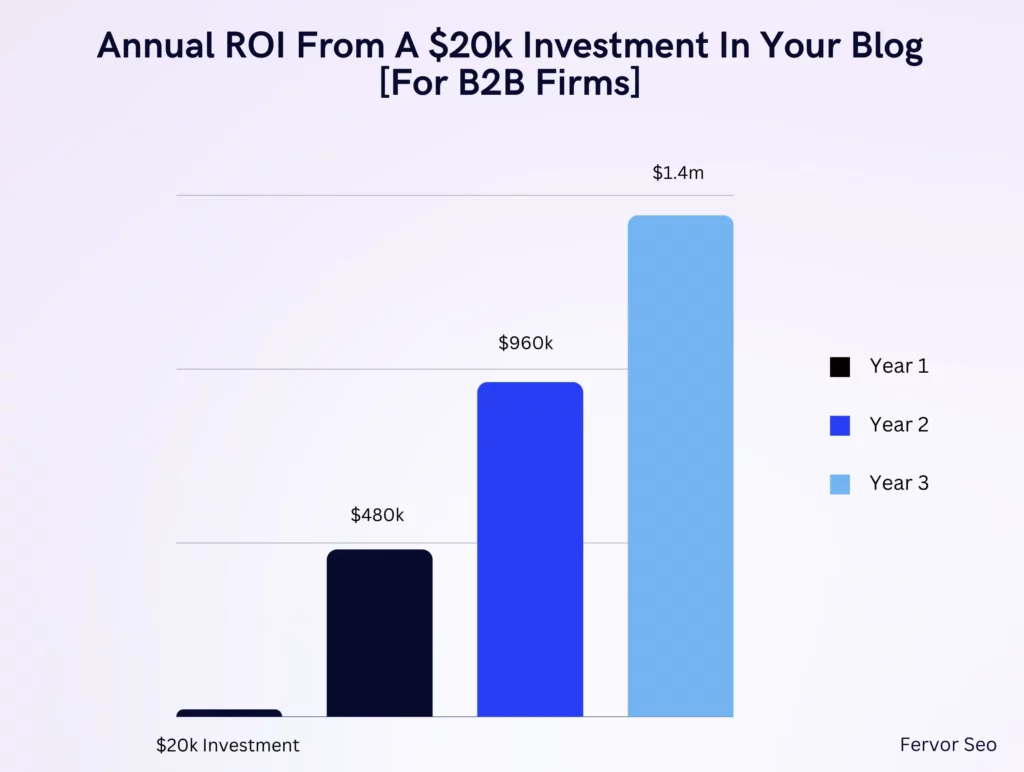 Of course, these are just estimates. The actual results you achieve will depend on a number of factors, such as the quality of your blog posts, the keywords you target, and your overall marketing strategy.
However, this example shows how blog posts can be a powerful tool for generating leads and sales for B2B businesses.
Additionally, blog posts can help you build credibility and authority. When you write informative and helpful blog posts, you show potential clients that you're an expert in your field. Which leads to more leads and sales.
How scaling your blog posts impacts your sales team
Scaling blog posts can have a profound impact on your sales team's effectiveness and results. Here's how:
1. Amplified Lead Generation
By scaling blog posts, you attract a larger volume of highly qualified leads to your website. These leads are already engaged and interested in your offerings, thanks to the targeted and informative content they find in your blog. This increased lead flow provides your sales team with a broader pool of potential customers to engage with and convert into sales.
2. Improved Sales Conversion
Blog posts play a crucial role in educating prospects about your products or services. When your sales team interacts with leads who have already consumed relevant blog content, they are more likely to have a deeper understanding of your offerings. This positions your sales team for more meaningful conversations, accelerates the sales cycle, and increases conversion rates.
3. Enhanced Sales Pitch
Scaling blog posts allows your sales team to leverage the content as a powerful sales tool. They can refer prospects to specific blog posts that address their pain points or offer valuable insights. This not only establishes credibility but also strengthens the sales pitch by providing additional context and supporting evidence. Your sales team becomes more equipped to address objections and showcase the value of your solutions.
4. Streamlined Lead Nurturing
Blog posts are an excellent resource for lead nurturing. Your sales team can use the blog content to engage with leads at various stages of the buyer's journey. By sharing relevant blog posts as part of their follow-up communication, your team can provide valuable insights, answer questions, and keep prospects engaged. This personalized approach builds trust and helps move leads closer to making a purchasing decision.
5. Differentiation from Competitors
Consistently scaling blog posts positions your sales team as industry experts. When prospects come across your informative and insightful blog content, they perceive your team as knowledgeable and trustworthy. This sets you apart from competitors who may not offer the same level of valuable resources. Your sales team gains a competitive advantage by leveraging the reputation and authority built through your blog.
6. Data-Driven Sales Strategies
Scaling blog posts provides valuable data and insights that can guide your sales strategies. By analyzing blog analytics, such as engagement metrics and conversion rates, your sales team can identify which topics or blog posts resonate most with your target audience. Armed with this knowledge, your team can tailor their sales approach, focus on the most impactful content, and optimize their conversations for better results.
7. Evergreen Lead Generation
As you continue to scale blog posts over time, you build a robust library of valuable content. This content remains accessible to prospects indefinitely, generating ongoing lead opportunities for your sales team. Even older blog posts can continue to attract new visitors and generate fresh leads, extending the lifespan of your lead generation efforts and supporting your sales team's pipeline in the long run.
In summary, scaling blog posts directly impacts your sales team by amplifying lead generation, improving sales conversion rates, providing valuable sales resources, streamlining lead nurturing, differentiating your team from competitors, enabling data-driven sales strategies, and generating long-term lead opportunities.
How scaling your blog posts impacts your fulfillment team
1. Streamlined Client Onboarding
Blog posts can serve as a valuable resource for your fulfillment team during the client onboarding process. By scaling blog content that educates clients about your products or services, your team can ensure that clients have a solid understanding of what to expect. This leads to smoother onboarding, reduces client confusion or misunderstandings, and sets the stage for a positive client experience from the start.
2. Enhanced Client Communication
Scaling blog posts allows your fulfillment team to leverage the content as a tool for effective client communication. They can reference relevant blog posts to address common client questions or concerns, providing additional insights and resources. This not only improves the quality of client interactions but also helps to build trust and credibility with clients.
3. Knowledge Base Expansion
As you scale your blog posts, you're building a robust knowledge base that your fulfillment team can rely on. The blog content becomes a valuable reference point for your team members, offering in-depth information, best practices, and solutions to common challenges. This empowers your team to access the knowledge they need quickly and efficiently, enabling them to deliver high-quality service and resolve client issues effectively.
4. Upselling and Cross-Selling Opportunities
By creating targeted blog posts that highlight the value and benefits of additional products or services, your fulfillment team can leverage them for upselling and cross-selling opportunities. The blog content acts as a persuasive tool to educate clients about relevant offerings, showcase their potential benefits, and generate interest. This expands revenue potential and enables your team to maximize client value.
5. Continuous Learning and Improvement:
Scaling blog posts encourages a culture of continuous learning within your fulfillment team. By regularly sharing new insights, best practices, and industry trends through blog content, you empower your team to stay updated and adapt to evolving client needs. This ongoing learning process helps them refine their skills, enhance their expertise, and deliver exceptional results for clients.
6. Time and Resource Optimization:
As your blog posts cover a wide range of topics and provide valuable information, your fulfillment team can utilize them to address common client queries or issues proactively. This reduces the time spent on repetitive explanations and allows your team to focus on higher-value activities. By leveraging blog content as a resource, your team can optimize their time and allocate resources more efficiently, improving overall productivity.
7. Thought Leadership and Reputation Building:
By consistently scaling blog posts, your fulfillment team has the opportunity to showcase their expertise and establish thought leadership in your industry. The valuable insights and industry knowledge shared through blog content elevate your team's reputation, positioning them as trusted advisors. This enhances client trust and loyalty, leading to long-term partnerships and referrals.
In summary, scaling blog posts directly impacts your fulfillment team by streamlining client onboarding, enhancing communication, expanding their knowledge base, creating upselling opportunities, fostering continuous learning, optimizing time and resources, and establishing thought leadership.
Blog posts are a super-magnet, but your competitors know this too
Let me tell you something, this little world of blog posts is fiercely competitive.
It's a battleground where B2B firms are fighting tooth and nail for online visibility, brand recognition, and, most importantly, the attention of their target audience.
The sheer volume of content being created and published every day is mind-boggling, making it incredibly challenging to stand out from the crowd.
Think about it.
Countless companies, just like yours, are vying for the same keywords, targeting the same audience, and striving to secure a top-spot on Google. They understand the power of blog posts in attracting high-converting traffic, building brand authority, and driving business growth. They invest significant resources with seasoned content professionals, to create compelling and optimized content.
In this cutthroat environment, the competition is relentless.
Your competitors are not just amateurs randomly posting mumbo jumbo on their blogs or social media platforms.
No, they have embraced the power of optimized content.
They conduct meticulous audience research to understand their customers' pain points, desires, and aspirations. They delve deep into keyword research and clustering to identify the most relevant and impactful search terms. They analyze SERPs to learn from the strategies and tactics employed by top-ranking competitors.
How to set yourself apart on Google
To succeed in this intense landscape, you need to be prepared to go head-to-head with businesses that have already secured their positions as industry leaders.
They have built their content empires with the help of SEO and content mercenaries, who bring years of experience and expertise to the table. Their marketing operators know the ins and outs of ranking articles on Google, leveraging deep insights to craft content that resonates with their target audience.
It's crucial to understand that blog posts are not simply an avenue for sharing ideas and opinions.
They are strategic assets that can make or break your online presence.
Each blog post represents an opportunity to dethrone a previously ranking competitor, but it's not an easy feat. It requires a combination of exceptional content, meticulous optimization, and an understanding of the ever-evolving algorithms that govern Google rankings.
So, if you're thinking about taking on this challenge alone, armed with little more than a ChatGPT or some basic ideas, it's time to reassess your approach. It's like stepping into the ring against Muhammad Ali with nothing but a few boxing videos from YouTube.
The reality is, you need the expertise, knowledge, and skills that seasoned content pros bring to the table. They have the unique perspectives, the depth of understanding, and the tonality required to connect with your prospects and drive real results.
In this zero-sum game of blog posts, you can't afford to underestimate the competition.
You must recognize that success requires a strategic investment in content marketing expertise. 
By working with professionals who specialize in SEO and content creation, you can tap into their wealth of knowledge and experience. 
They will help you navigate the complexities of inbound marketing, develop a winning content strategy, and position your business to wreak havoc on your competitors.
By acknowledging the intense competition and seeking the assistance of content marketing experts, you can level the playing field and maximize your chances of success.

Why most companies fail at blog posts
Now that you're aware of how competitive it is, know this. 90% of your competitors can't get their posts to rank.
Here's why:
1. Missing the mark: Lack of clear direction.
Imagine embarking on a journey without a map or destination in mind. Similarly, many businesses dive into blog content creation without a clear strategy or direction. They fail to define their target audience, understand their needs, or set specific goals for their blog posts. As a result, their content lacks focus and fails to connect with the right readers, leading to disappointing outcomes.
2. Lost in translation: Insufficient audience understanding.
Successful blog posts are built on a foundation of deep audience understanding. Unfortunately, a considerable number of B2B businesses overlook this vital step. They miss out on getting inside the minds of their target audience, overlooking valuable insights that could shape their content strategy.
Without a genuine understanding of their customers' pain points, desires, and preferences, their blog posts struggle to resonate and engage effectively.
3. Invisible in the crowd: Neglecting keyword research.
Keywords act as the secret passageway to connect your content with your intended audience. However, many businesses underestimate the significance of thorough keyword research. They fail to identify the search terms and phrases their potential customers use to seek solutions. Consequently, their blog posts remain invisible in search engine results, and they miss out on valuable organic traffic.
4. Falling short: Mediocre content quality.
In the race for attention, the quality of your content becomes a make-or-break factor. Unfortunately, a large portion of B2B businesses produce lackluster content that fails to captivate and deliver value to their audience. Whether it's superficial insights, generic advice, or poorly written articles, their content lacks the substance and depth needed to stand out in a noisy digital world.
Consequently, their blog posts struggle to leave a lasting impact on readers.
5. Lost opportunities: Ineffective promotion and distribution
Creating outstanding blog posts is just the first step. Many businesses stumble when it comes to effectively promoting and distributing their content. They overlook actually spreading the word, preferably through email that they're creating content, and you should check it out. Consequently, they log no positive user behavior, failing to gain the traction and exposure needed to signal to Google that their content is good.
6. Missing the optimization train: Search neglect
Optimization is the key to unlocking higher rankings on Google. However, a significant number of B2B businesses fail to grasp the importance of SEO. They overlook critical optimization practices like sitemaps, robots.txt files, URL structure, and internal linking. Without a solid foundation of SEO best practices, their blog posts struggle to gain visibility and attract organic traffic.
7. Fizzling out: Lack of consistency and persistence
Consistency and persistence are the unsung heroes of successful blogging. Building a thriving blog requires a long-term commitment and a consistent stream of high-quality content. Unfortunately, many businesses start strong but struggle to maintain momentum.
They find it challenging to produce content regularly, which ultimately leads to decreased audience engagement and underwhelming results over time.
8. Stuck in time: Failure to adapt and evolve
The digital landscape is a rapidly changing terrain, and businesses must adapt to stay ahead. However, a significant number of B2B businesses fall behind, failing to keep up with industry trends, emerging technologies, and shifting customer preferences.
They stick to outdated strategies and neglect to innovate their content approach. Consequently, their blog posts lose relevance, leaving them trailing behind their more agile and adaptable competitors.
In contrast, the fortunate 10% of businesses that triumph in the world of blog posts demonstrate a keen understanding of their audience, a commitment to delivering quality content, and an ability to navigate the ever-evolving digital landscape.
There's no way around investing in your blog posts
While everything I've written above seems like a cheat-sheet you can implement on your own.
The truth is, you can't.
And I don't say this to sound mean. I'm only trying to save you from wasting your time and losing months trying to beat seasoned pros with some internet advice.
If you truly want to embrace the power of blog posts, and drive massive growth in your firm, you need to invest in either:
• An in-house content team
• A freelance team
• An agency, with a pre-built team
While AI like ChatGPT possesses impressive abilities, it has limitations when it comes to creating content that speaks to your audience.
1. Human Perspective and Creativity
Humans provide unique insights and personal experiences, bringing a human touch and creative flair that AI lacks.

2. Depth of Knowledge and Expertise
SMEs (Subject Matter Experts) possess specialized knowledge and expertise in specific industries or subjects, going beyond surface-level information. If you're a business consulting firm, this is why most of your clients want you consult with them. They need your specialized knowledge and you need demonstrate you have it through your content.
3. Contextual Understanding and Adaptability
Content writers tailor their writing to specific audiences, understanding their needs and adapting their style accordingly, which AI struggles to do effectively.

4. Brand Voice and Identity
Humans can capture and embody a brand's persona, ensuring consistency in the messaging and reflecting the brand's values.
5. Emotional Intelligence and Persuasiveness
Skilled content writers leverage emotional intelligence and persuasive language to engage and influence readers, something AI finds challenging.
6. Handling Complex or Technical Subjects
Content writers excel in simplifying and communicating complex or technical information accurately, whereas AI models may struggle to grasp specialized concepts.
$5/hour third world writers won't work
Hiring $5/hour third world writers may seem cost-effective, but they also face limitations in understanding the target audience and cultural nuances.
Here's why:
1. Language Proficiency
Writers from English-speaking countries have native fluency and grasp idioms, expressions, and colloquialisms better.
2. Cultural Understanding
They have firsthand knowledge of cultural norms and references that resonate with the audience.
3. Audience Insight
Skilled writers invest time in researching and empathizing with the audience, while $5/hour writers will lack the same depth.
4. Industry Knowledge
Skilled writers possess industry-specific expertise, ensuring accurate and insightful content.
5. Writing Style
Skilled writers adapt their style and tone, while $5/hour writers may struggle to achieve versatility.
I am referencing these points from experience, having burned my fingers using cheap content writers in the past.
Don't believe me?
Try it for yourself.
Inbound marketing is about understanding your audience, and providing them valuable content to demonstrate your expertise without selling.
You use your valuable content to lure them to hire you to solve their problem
Inbound marketing, especially in B2B, will bring you far "warmer leads" than outbound. Much higher conversion-rate.
It vastly outperforms outbound marketing
Blog posts are the best b2b inbound marketing strategy. Youtube is a distant second, and whitepaper + newsletter combo is third.
Podcasts and social media are low ROI and useless for b2b lead generation.
Blogs can yield a 23x ROI.
Blog post leads are blessing to your sales and fulfillment teams.
The only way to create successful blog posts is to work with a team who know what they're doing.
If you'd like us to review your inbound marketing strategy and help you create blog posts that smoke your competitors, press the button below.
We'll get on a call and give you some feedback about your strategy.